Yesterday we learned about LDR sensor 🙂 Plus being interviewed by CNN Indonesia 🙂
Awa (front) arrived very early so he set up the class! Awesome work Awa! Look at how neat and symmetrical he arranged the stuff! He even set up the teacher desk and payment desk, awesome 😀
Kids arriving earlier, one didn't like to be in a pic 😀
Hanging out before the class started

Before class prep
Opening up handout and get ready to test our LDR sensor an

Ozan unboxed his ProCodeCG Arduino kit for the first time 🙂
Reza started to put LDR and resistor on a breadboard and connect it to Arduino

Malik had different mission. He was going to test USB UART Driver for his ESPectro Board
While Awa was always totally interested in trying a new thing

Hello Zahran, was it giving you a headache looking for that tiny LDR sensor in your toolbox ? 😀
Muhammad was getting ready to follow the instructions in handout too

Awa's didn't work. Muhammad and Faris gathered around to help 😉
While Malik was still finding ways to install the driver

Ozan, have you made things work? 😀
Reza did. The serial monitor showed the sensor reading, lower numbers when the sensor received low lights and higher numbers when it got more light.

Muhammad's worked well too.
And Zahran's.

So we added a LED on the board so it will goes on when the LDR receives low light and goes off when the LDR receives more light.

Not many kids came to the class yesterday. Most of them had something else to do at school or had to go somewhere with their parents.
Areli showed his RGB LED experiments that he set its color to magenta, pink and other cool colors 😉 Yaaay good job Areli 😉

Meanwhile, Reza had successfully made the LED on whenever he hovered over the LDR 🙂 Yay!
Time flies when we're doing this 😉

Even parents had things to do of their own 😉
More kids showed up for the next class, and so did the reporter and cameraman from CNN Indonesia 😉

They interviewed Awa and asked him lots of questions 😀
They also made Awa created blinking LED from scratch! And Awa did it by himself! Bravo Awa!!!
Malik prepared his project to be demonstrated 🙂 He had lots of plan but we were showing his LED clock project with Arduino (ESPectro demo will be for next time ;))
Malik in action 😉

Yes, this kid in batik, is our captain sir! 😉
After the interview, Malik got back on his ESPectro USB UART Driver installation and worked. We installed ESPectro NeoPixel library to see if the board worked.

Yeah, it worked now! Problem solved! 😉

Areli looked really interested seeing it 😀 Next week please bring your ESPectro, Areli 😉
Reza was busy helping Muhammad and other kid to get their LED work with LDR 😉
The circuit connection

Ozan finally made LDR and LED work too (look at that happy face :D)
Yeay! Not bad for the first day unboxing the Arduino kit 😉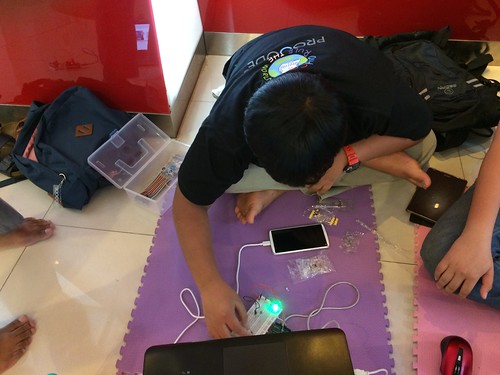 We'll be exploring temperature and humidity sensor next week 😉